Most people should probably read more than they are doing right now. A great way to keep track of your reading is of course making a spread in your Bullet Journal! My goal is to read 25 books in a year, because I am 25, so this is the number I chose. Of course you can do as many as you want.
The first thing you want to do is to start off with a header. I chose to make a super simple banner header.
Now its time to add your shelfs. I prefer to do it in pencil first, but whatever floats your boat.
Then add the books
Optional: add decorations.
I almost erase completely the pencil lines, and then I go over it with a pen. I also coloured in the plant.
On the opposite page I added a Dr. Seuss reading quote. I was working on this a lot and got a compliment from the guy sitting next to me on the bus.
Last, but not least, write in the books you finish reading. I wanted to add some colour, so I wrote the title in the books main colour.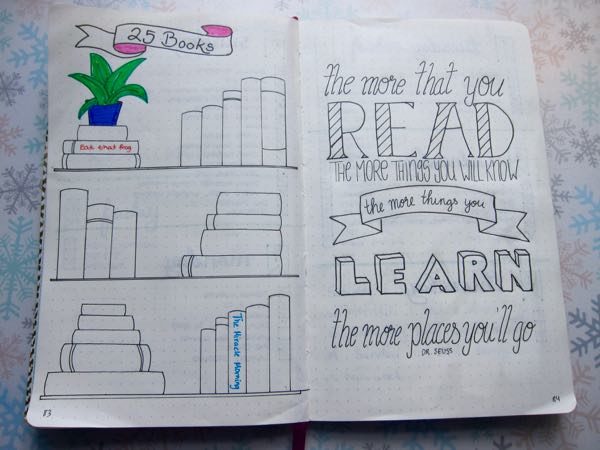 To learn more about starting a bullet journal, check out this post.