I have actually written about this topic previously, however I started a new bullet journal and therefore created a new spread. So of course I want to share that with you.
* This post contains affiliate links. In plain English, this means that I may receive a small commission (at no cost to you) if you subscribe or purchase something through the links provided. You will never see me post a link to a product or service that I haven't used myself and love unless otherwise stated!
I have started re-reding The Miracle Morning book and I am on day four of my morning SAVERS. I am using the reading time during my morning routine to read this book. I have been thinking quite a bit lately about not feeling fulfilled in any area of my life so last week I revisited the level 10 life and made a spread in my (new) bullet journal. A lot of things have changed for me since I did the last one about 6 months ago. The biggest changes were a) moving to a new town and b)quitting my job. This is why I felt like I needed to take a whole new look on the level 10 life. I also made a different spread – mostly because I no longer have access to curtain equipment to make nice circles. Without further ado, here is my new level 10 life.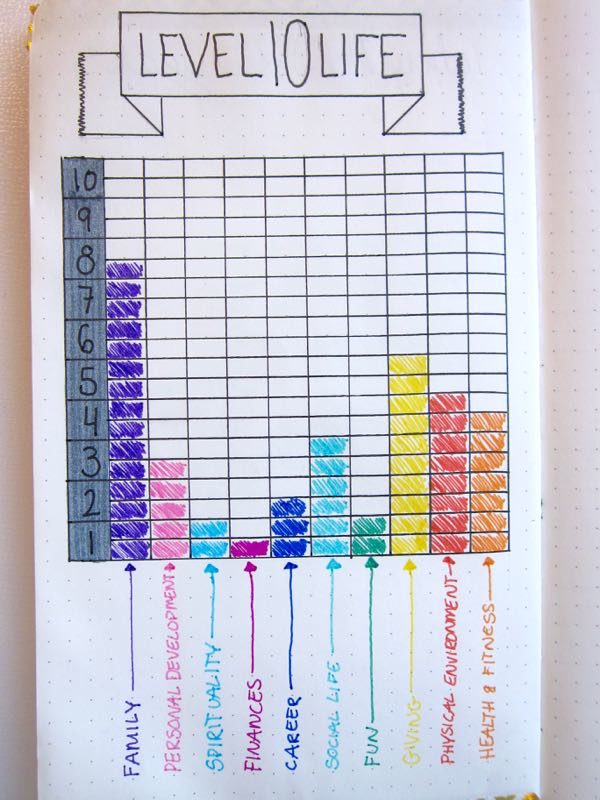 Family: was 8 – now 7.5
I miss talking to my mum the most. It is something I do not do much anymore, so this is something I really need to work on. I should also be visiting my extended family, especially grandparents, since I only live about an hour from them.
Personal development: was 2 – now 2.5
I am starting my miracle morning, which is great. But since it is just the beginning I do not want to put this a lot higher yet. But it is getting there.
Spirituality: was 1 – now 1.
Honestly, really unsure about this one. Might change it to something else later.
Finances: was 5 – now 0.5
I quit my job and most my savings went to buying the new house. I currently have very little income – from my own business selling homemade items. I need to figure out how to make more money from home or I have to get a job.
Career: was 2 – now 1.5
This really is the same as above. I have to get my online business(es) out there and start making money and growing it.
Social life: was 3 – now 3
I moved to a whole new place where I did not know anyone. I have barely started talking to the neighbour and started meeting people to be friends with.
Fun: was 2 – now 2
I do little fun things outside the home, such as movies and other entertainment. But I think that will come when we have settled down more and do not have as much house related expenses. We do have tickets to see a show in a few weeks which I am super excited for.
Giving: was 3 – now 5
I have divided this into two parts, financially and personal. 5/5 for financially – I give a monthly donation to two charities. 0/5 for personal because I am not doing anything right now with that.
Physical Environment: was 4 – now 4
The biggest thing – I moved. We are still turning this house into a home. Painting walls, buying decor etc. This will probably increase a lot during the next few months.
Health & Fitness: was 3 – now 3.5
I ran a 10k and have another one next week. But I do not do a lot of in between exercising. Well, I have barely started jogging and some simple exercises in the morning for my morning routine. If I keep this up, this will also improve quickly also.