Today I am super exited to be sharing a product review and GIVEAWAY! So I guess I have already let slip that I really like this product since I want to give one away to one of you lucky readers.
* Disclaimer: I was provided with a free product in return for my honest review. All thoughts and opinions are my own. This post contains affiliate links. In plain English, this means that I may receive a small commission (at no cost to you) if you subscribe or purchase something through the links provided.
Julie from JB Journals contacted me and asked if I wanted to do a review of her personally designed bullet journals. As the journal lover I am I could not say no to this opportunity. She posted the journal and it took about two weeks to get here. Julie is in Australia, so a two week shipping (to Norway) is just what I would expect it to be. She did shoot me an email after a week and a half to ask if it had arrived.
I am really pleased with the wrapping. It came in a padded envelope which held really well and there was no sign of it getting bent or so. After seeing so many people ordering journals online and getting bent corners, this is something that I would be worried about happening, so I was really excited when it didn't.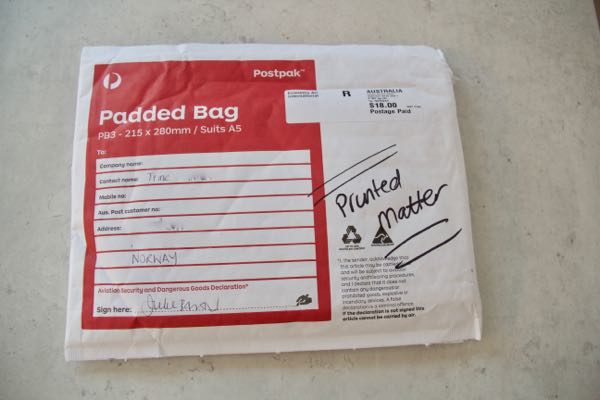 It was also wrapped in clear plastic. It also has a paper wrap where it says what the journal includes and a Ryder Carroll quote. I love the mandala on the front.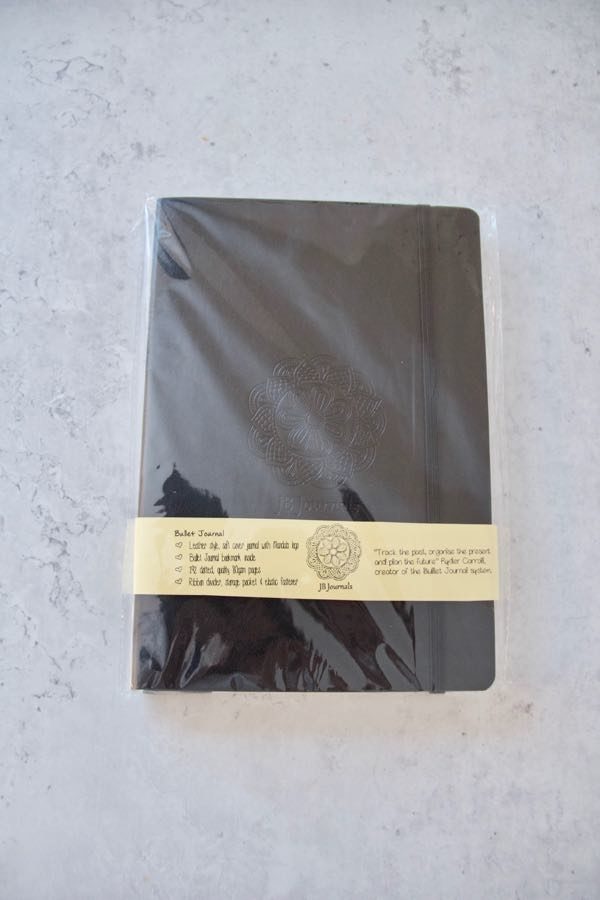 When I opened it up it came with bookmark. The key on one side and a small introduction to bullet journaling and what to include.
The pages are dotted all the way to the edge. It has 28 dots across and 41 dots downwards. It comes with one ribbon.
I thought I would just compare the dots to my Leuchtturm. JB Journal is on the left and LT on the right. The JB has darker dots.
It also comes with a handy pocket in the back.
Finally I did a pen test. I used a variation of pens and colour. It does have slight ghosting, which I expected. But no bleeding, which is really good.
One of first things that I see as the biggest downside to this journal is that it's not numbered. I personally hate numbering my journals. My first two journals were Moleskine, I numbered one and a half and then I could not be bothered. The one I am currently using is a LT and I love that it is pre-numbered. Julia said that she deliberately designed the journal without an index and page numbers to allow people to personalize it. In the end this really is just a personal preference, as I have mentioned, lots of people use unnumbered pages – I might just be lazy.
I love the mandala on the front. It makes the journal feel not as boring. I of course have been buying decals for all my journals because staring at that blank cover drove me insane. So this mandala is a huge plus in my book. I would love to have it even bigger. It also says JB Journals on the front, which I am not a fan of, I would much rather it be on the back. However this is probably something I will get used to.
The last thing I wanted to get specific with is the dots. I already did a picture above comparing it to my LT. The dots are a lot darker than I am used to. I do love they are 5mm apart like the Moleskine and LT, for me this is the perfect spacing unlike the Nunna which has 3mm. They also held up really well in my pen test, with no bleeding. It does has some ghosting, but I think that is very usual and not something I mind at all.
All in all I think this is a great journal to use. In Norway it is about the same price as Moleskine and LT, which I think is fine, price-wise. It seems like a great quality journal and has so many positive features and it is great as a journal. I think this is a great journal, especially for beginners because of the bookmark that comes with it where you have the bullet journal system very easily available.
Etsy Reviews:
Love this journal! It has a nice, leather-like black cover with an imprinted mandala and dot grid paper. Haven't tried out my different fountain pens on the paper yet but it feels much like the clairfontaine paper in the Rhodes Webnotebook. Glad I got it to try out! I think I will be happy with it.
I just received my journal, love it, thanks!
If you want to buy this book, you can check it out on Etsy. You can also check out her Blog, Facebook page and Instagram page.
About Julie
" I have an Etsy store and am currently developing some online classes to support people in their journaling. I originally began with Self Care Journals and fell in love with the Bullet Journal system. I work part time as a Financial Counselor and do this in my spare time as something I am passionate about."
Want a chance to win a JB Bullet Journal??