I was so excited when a Norwegian stationary company, Tudos, contacted me and asked if I wanted to do a review and giveaway on their products. Please note they are a Norwegian company and only ship products within Norway. I do hope you like this review. Spoiler alert: I am in L-O-V-E.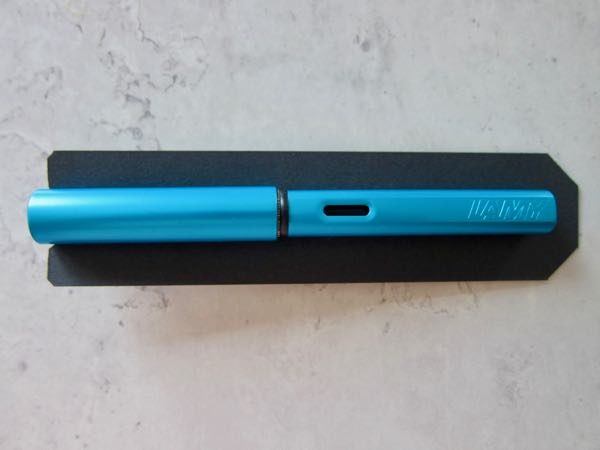 * Disclaimer: I was provided with a free product in return for my honest review. All thoughts and opinions are my own. This post contains affiliate links. In plain English, this means that I may receive a small commission (at no cost to you) if you subscribe or purchase something through the links provided.
So this post has been sitting in my drafts folder for far too long. It has been on my mind a lot, but I just could not get it the way I wanted it to be. I felt like there was something missing and that the post would be a failure. It feels incomplete, but this is my first fountain pen, and I do not have anything to really compare it to.
Packaging
So I was given the opportunity to try a fountain pen for the first time EVER! The wait was not long, and I was so happy when I got the package. They sent me a Lamy AL-Star Fountain Pen Aluminium Pacific Blue and Turquoise Ink Cartridges that matches. Not only that, but they were so amazing that I was also given a Leuchtturm 1917 Nordic Blue Dotted A5 and a Leuchtturm1917 Penholder. I also got a personal card! The people at Tudos are so amazing at their customer service!
Lamy Fountain Pen
This pen is so beautiful. I love the colour of both the pen and the ink.
The ink is a wonderful light turquoise colour. I've not had any issues with the ink not flowing like it should. I even took it on two flights and did not have any trouble. Of course I read up before hand and dobbel-bagged it in two zip-lock bags just in case. I am already on my second cartridge.
The pen is a wonderful light blue metallic shade, which is defiantly inspired by the ocean. Just looking at this pen makes me thing of the lovely tropical sea and I just want to jump in. The pen itself writes really good and it sits really well in my hand. It did not take my long to fall in love with this pen.
My only problem is that the drying time is not something I am used to, and that did take me some time to remember, and sometimes I just forgot, so I do have some tiny smudges, but not anything that bothers me.
In My Bullet Journal:
I have fallen in love with this pen and I use it regularly in my bullet journal. Check out some of the pages I have used it in.