This is my, this is my, this is my house.
Before I start showing this to you, I just wanted to say a few things. Its only been two weeks since we moved in. This house is nowhere near perfect, there are still things to be done, items to be bought and stuff to paint. I was doing a kind of tidy as I go when I took the photos (with the exception of the home office/guest room – which is a mess and will get new photos when its tidy). My sister and I yet have to "make it ours", and decide what colours we want where – it's still quite a blank canvas. Please note all these opinions are my own, and my sister may have either the same or different opinions that me – just to be on the safe side.
Oh and I totally have a thing for pretty and sparkling lamps. Without further ado. Lets get started.
This is the front of the house. I am painting the table, and maybe adding some wheels. I am also looking for a bench to paint, possibly a mint colour. I will also be adding more flowers here. This is going to be a place where one can sit in the morning and enjoy a breakfast / tea / read the paper. We get morning and evening sun here.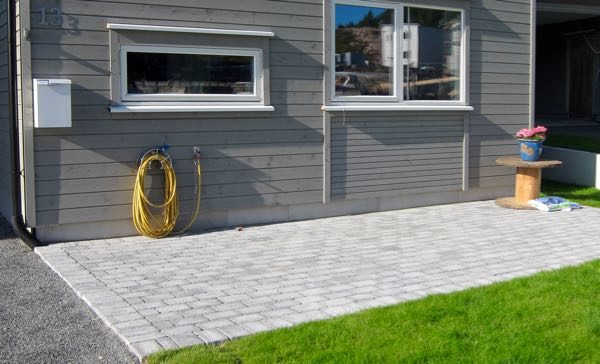 We have such a nice garden in the back. I am setting up a vegetable garden in the right corner, and moving the one I already did. I am also going to paint the wood to a brighter colour. I am also getting some pillows and blankets for outside. I just have to say I love our seating area here, and our sun beds are to die for!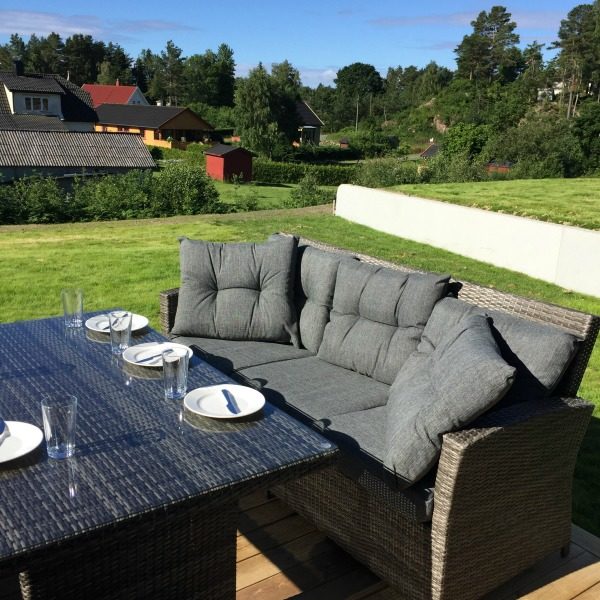 Here is the entrance. I think maybe I am going to get some flowers to put on each side of the door. We will probable also get a sign here. I do not like the fact that there is a huge window in the door (I actually really, really don't like this space-door) but I am thinking of adding some contact paper or colourful stained glass here.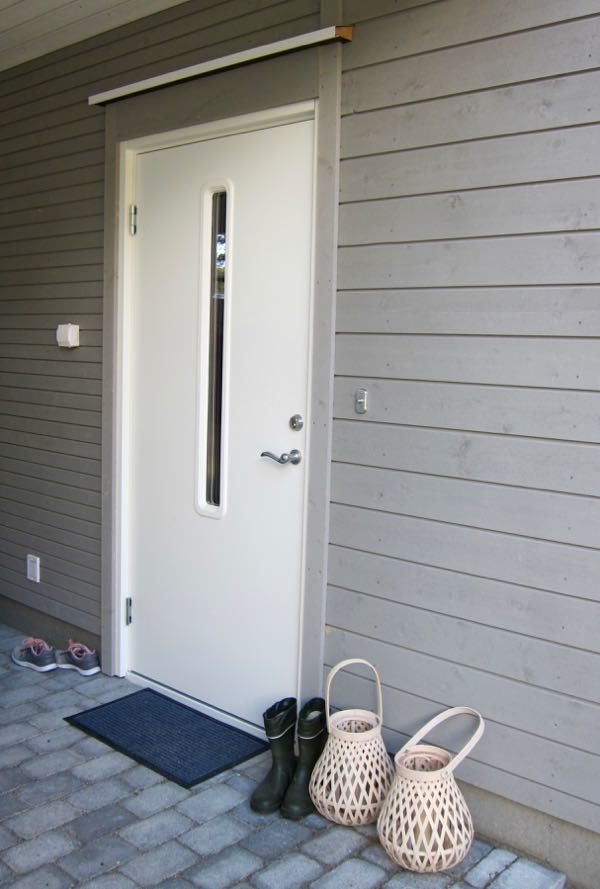 Here is the hallway. I just love this lamp. This was actually one of the last lamps we got and it works so well with the rest of the house. On the left there is a sliding mirror door closet, its messy – so I am not showing the inside. I also have an inspiration picture on how I want it to be.
The bathroom is to the right in the hallway. This still needs some finishing touches. As well as a washing machine. We currently only have a drier, but hopefully the washing machine comes within two weeks! I also have an inspiration picture on how I want it to look/feel like.
The stairway is straight ahead. Under the stairs is currently Cosmos things. The dining area and kitchen is to the right and living room to the left. Ps. I totally want to paint the walls a darker gray colour, but I have yet to convince my roomie.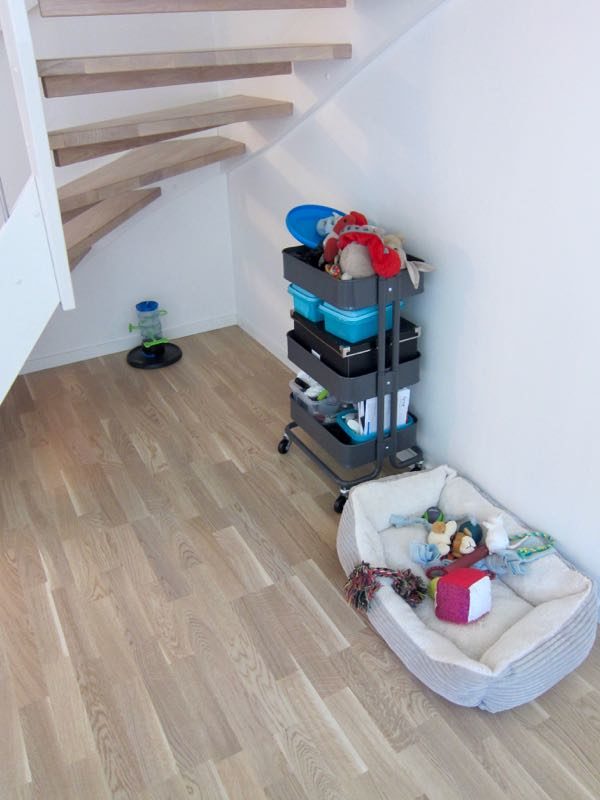 Here is the dining area. I am not super keen on the placement of the Hemnes Sideboard, It was originally next to the dining-couch but we just moved in this morning. The dining chairs and bar stools are both going to get painted. Oh and I totally love the kitchen. Although I need to redo some organising of the cupboards. I love it. It looks amazing. The backsplash is perfect. The bar was custom-made to our house, and that's one of the best decisions we made. As well as the counter tops and backsplash. Those were all the decisions we made, but it's just the best part of the kitchen.
We still do not have a couch. Its coming in a few weeks. Its grey and so pretty. We got this one from Modern Living, but we chose different legs and armrests. I think the first wall I will get approval to paint is behind the tv or couch.
This is the lamp above our stairs. I love it. I would marry this lamp if I could.
We also have a library. We bought these amazing looking Valje shelf unit from IKEA – single and double. One of the black chairs and leg rest will come up here when we get a new couch.
To the left of the stairs is the home office / guest room. This is where I will spend my time working, as you can tell by all the mess. We are supposed the have one desk each, but right now I have just kind of taken over the entire thing. More painting needs to be done. We are also getting two Lack tables to have in front of the couch/pull out bed. I love all the gold in this room. Yes, we also need lamp shades, but still to find some that looks good. We also have a storage room here, its messy and you're not going to get a look.
Next room is the bathroom. Our shower is 1×1 meters, and I love that it's so big! Its one of those showers where you can fold the doors in to make more space. We can also add a bathtub here – actually we will add a bathtub here at some point. We also have a rainfall shower.
This is my bedroom. I have a new bed, a new escritoire that I painted dark blue. The nightstand is this one I painted earlier. However it was just too short for my taller bed. I bought these lovely legs and they are so perfect. The chair will probably also be painted.
Here is a quick peek into my sisters bedroom. Shh.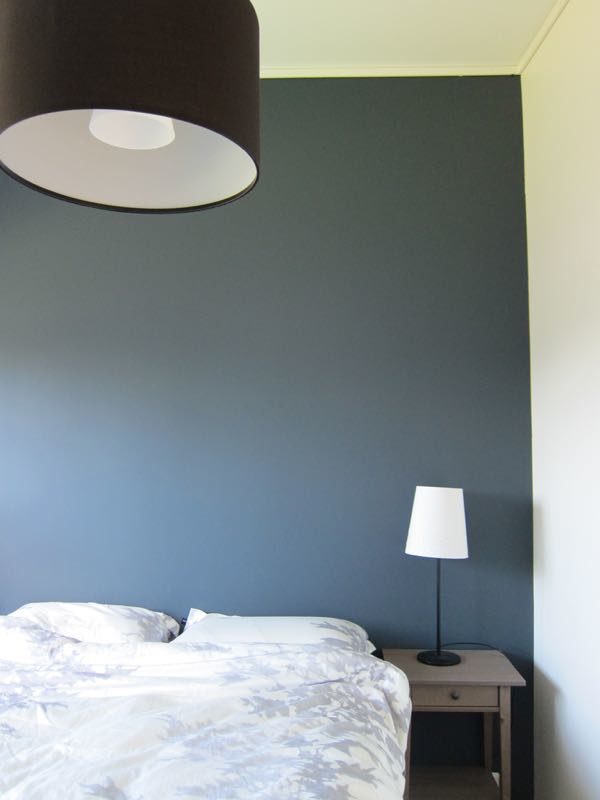 And that is the end of my home tour. I hope you enjoyed it and I am excited to share with you some of the projects I will be doing to take this house and make it into a home.