These wrist warmers are super simple to make! You literally only need to know how to knit the basic stitch. That is it, well also to cast on and bind off (or you can get someone to do this for you). So this project I probably started maybe 5-7 years ago, and somehow it ended half-finished in my knitting box. I found it when looking for something to knit during my commute to work, which is about 30 mins. I cannot read because I get car sick and I want to be someone productive. But anyways. I am not a knitting expert, and I only "knit" in Norwegian, but I found some tutorials for you if you need it.
Supplies:
Yarn
Knitting needles
Beads
Optional: sewing needle to thread the beads
Instructions:
Thread the beads on the yarn. It's easiest to use a sewing needle.
Cast on 32 stitches (or as many as you want) needles size 2.5
Follow the pattern (the arrow is where you start and follow it when you knit), where there is an X you add a bead between two stitches. Only the wrong side rows are shown on the charts. Knit the right side row with no beads. The pattern is about 5 cm wide, knit as many patterns as needed until the desired size. How to knit the knit stitch.
When you are complete, bind off and leave a long piece of yarn, use this to sew the two pieces together.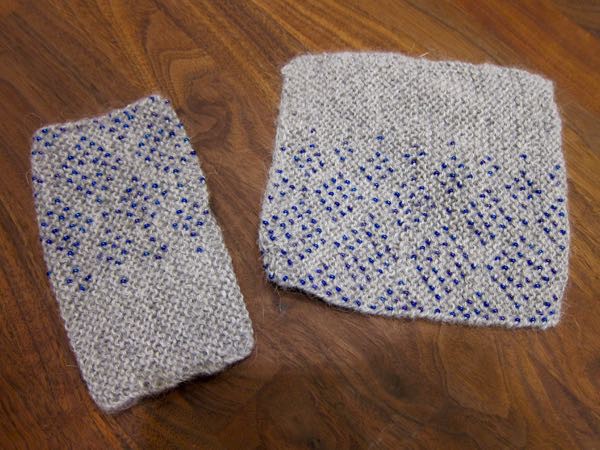 I am currently working on a braided boot cuffs tutorial. This will be currently exclusive to my newsletter fans. Sign up for my newsletter to be the first to receive this FREE tutorial.