If you stopped by the post I did on my mums birthday party you might have noticed gold champagne glasses. It is kind of a find Waldo moment, I thought I had a picture – which I did not have oops. Well you can slightly see part of one in the photo with the champagne bottle. Here is a better view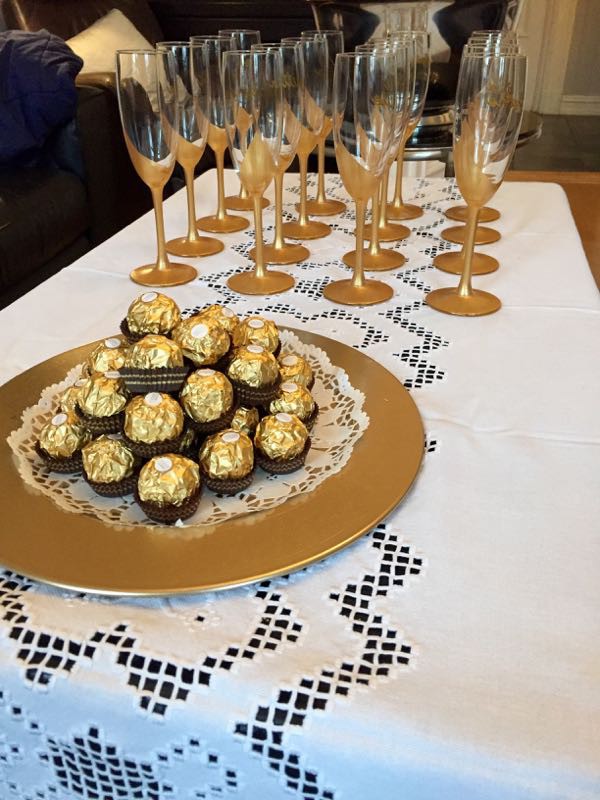 Are these not just the most amazing thing ever? They even double as a keepsake for your guests. How often have you been at a party, just to find your drink with three other glasses? Another great use for it is as a table card if you have assigned seating.
The best part, they are super simple to make! I also have a great tip for getting those perfectly straight letters!
Supplies:
Champagne Flutes
Masking tape
Gold Paint (optional: dishwasher safe) & Paintbrush
Gold Pen (optional: dishwasher safe)
Newspaper
Directions:
Lay out newspaper
Use masking tape on the glasses, press it down to avoid any air bubbles
Paint 3-4 layers
Print out names, tape them inside the glass, trace on the outside (Super smart right?!?)
Optional: follow instructions on paint to make dishwasher safe
Serve with champagne and Ferrero Roche.
There are so many ways to tape of the glass, this is the method we used, to get a nice pointy end. Other options include having a straight line or a slanted line.