I am super excited to be sharing this with you, and if you follow me on Instagram you got a sneak peek last week. I must admit I was really struggling to come up with 25 things to do the year I am 25. I googled, I asked in the bullet journal Facebook group and really looked deep inside to find 25 things. Some are big and some are small. Some is a do-it-once-and-tick-off and some are more advanced. Without further ado, here is my list.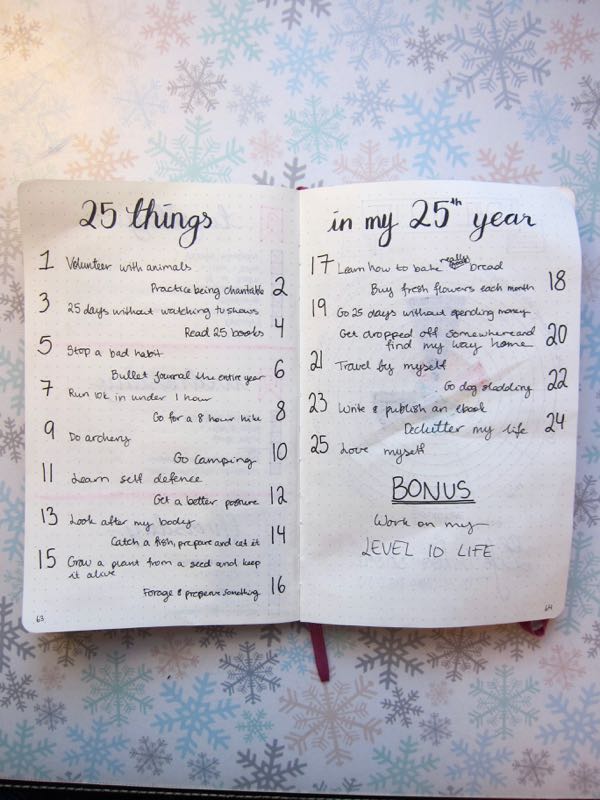 Volunteer with animals
I really want to do some volunteer working with animals. I have wanted to do this forever, but never put it into action. However now I will do something about it!
Practice being charitable
I already give money automatically to the Norwegian red cross each month, but I want to do something more.
25 days without watching tv shows
I am perfectly capable of admitting I watch too many tv shows. And there have been days where I did not complete my to do list because I watched two shows instead. Please note this does not include dinner movies with my family.
Read 25 books
Because, why not…
Stop a bad habit
Something everyone should work on really.
Bullet Journal the entire year
I love bullet journalling and I would love to see how it will evolve during the course of a year!
Run 10k in under 1 hour
I ran my first 10k probably 4 years ago. My fastest is 1.15 ish so my goal is to be under one hour. NB: this is also one of my yearly goals.
Go for a 8 hour hike
I love being in the forest, and would love to spend an entire day hiking with my dog(s) and my older sister is welcome to join.
Do archery
When I was in high school I did archery as an extra curricular activity and I really enjoyed it. Plus it looks super bad ass!
Go camping
Again, this is spending time out in nature.
Learn self-defence
Honestly, everyone should know this!
Get a better posture
I have a really bad posture. I am 179 cm (almost 5´9) and I have always been very self-conscious about my hight. Therefore I have slouched shoulders to make myself shorter.
Look after my body
Both eating healthy and exercising goes under this category. As well as mentally and spiritually… and all that stuff
Catch a fish, prepare it and eat it
I have done part one and part three. But I have never really gutted a fish. In the summer we have rented a boat for a week and hopefully I am going to be able to complete this then.
Grow a plant from a seed and keep it alive
I have a three-four year old lemon plant which I grew from a seed. I really like the experience so I am doing it again!
Forage and preserve something
Last year it was blueberries and blueberry jam. This year it might be the same, or something different. It will either way be super fun!
Learn how to bake (really good) bread
Because buying from the store is just laziness. And baking is so much fun!!
Buy fresh flowers each month
I love fresh flowers. But I do not have a boyfriend / special other to buy it for me. So this year, I am buying fresh flowers each month. Just because I love it that much.
Go 25 days without spending money
I am not a big money spender, but I do spend money on cheap stuff (hello eBay). I want to be more purposeful with this and have a no spend 25 days.
Get dropped off somewhere and find my way home
I dream a lot and a common occurrence is me being lost and trying to find my way home. Spoiler alert: I never do. So I am taking this concept and applying it in real life. Hopefully this will help me in my dreams.
Travel by myself
Becoming more independent.
Go dog sledding
Because, well, why not! Supercool!
Write and publish an e-book
My goals since forever.
Declutter my life
I have too much stuff and have a hard time letting go. I want to live a more simplistic life.
Love myself
We should all try this.
Bonus: Work on my level 10 life.
I hope you all enjoyed this list, and hopefully got some inspiration to create your own. I am super excited to be republishing this on my 26th birthday and letting you all know how I did / will do!