Todays post is a guest post written by Kosta Miachin.
If you're trying to cook healthier meals, you might first be thinking of things to eliminate from your diet. But what about the things you should add? Adding more spices to your recipes not only makes cooking more fun and delicious, it can also increase the nutritional benefits of your food. Plus, using spices reduces the need for sodium. Your heart and stomach will definitely thank you. Healthy food doesn't have to be boring. With the right spices you can whip up gourmet status meals loaded with health benefits.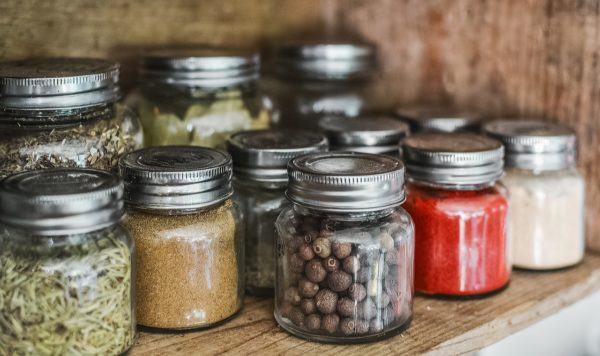 Spice rack looking empty? Dinner looking bland? Check out these five dynamic spices to add to your meals for a flavor kick and nutritional boost.
Turmeric
This golden hued spice has taken the health community by storm. Good thing it's tasty! High in antioxidants and anti-inflammatory properties, turmeric has been used to treat everything from acne to arthritis. Studies have also shown some evidence that turmeric can help prevent and treat cancer.
Turmeric's benefits can be garnered in many delicious ways. Use fresh turmeric in smoothies and juices, or its powdered form in curries and other Indian inspired dishes. Powdered turmeric can also be mixed with water, yogurt, or apple cider vinegar to make a face mask to beat acne and give yourself a natural glow.
Ginger
Like turmeric, ginger also serves up anti-inflammatory and anti-cancer properties, as well as a heavy dose of antioxidants. Some of the compounds in ginger are actually related to turmeric, so it's no surprise they share many of the same effects. As a key component of Chinese, Indian, and Thai cuisine, ginger might just be one of the most versatile spices.
Add fresh ginger to curry or to chicken noodle soup to increase flavor and soothing effects. In Eastern Europe a tea of fresh ginger, honey, and lemon is used as a delicious cold remedy. Because ginger has been used for centuries to treat nausea, this tea is also great for pregnant women. Hitting the gym? Add some ginger oil or fresh ginger slices to your water to reduce muscle aches. Powdered ginger is commonly used in baking for things like pumpkin pie and, of course, gingerbread. Since ginger powder has been shown to reduce menstrual pain, bake yourself a plate of warm cookies next time you have cramps!
Cinnamon
When you think of cinnamon you probably think of fall feasts, gooey cinnamon rolls, and fresh baked pies, but you might not consider that this warm, comforting spice is one of the healthiest on your spice rack. In ayurveda, ancient nutritional wisdom from India, cinnamon in a warming spice, which means it boosts your metabolism and kick starts your digestive system. If you're thinking about doing a cleanse, you should definitely add cinnamon to your routine.
If the smell of cinnamon baking wafting through your home isn't enough to convince you to start using cinnamon, consider that this auburn spice is anti-inflammatory, high in antioxidants, and fights viruses, just to name a few benefits. Cinnamon can also be used to freshen breath and as a natural sweetener when baking. To add more cinnamon to your diet, you can throw some into curries, Vietnamese pho, applesauce, smoothies, baked goods, and more.
Saffron
Through much of human history, saffron has been the most coveted spice in the world. Today, it is still the most expensive spice, pound for pound, because it grows on this inside of a purple flower and must be harvested by hand. Saffron has a distinctive taste and rich orange color perfect for Middle Eastern, Spanish, Italian, and Indian food, so get creative with this luxurious spice. As far as health benefits, there is some evidence that it can help treat depression, menstrual symptoms, and digestive discomforts. Saffron is also high in vitamin C, making it a good choice for cold and flu season.
Cardamom
This dreamy spice is a staple of Indian cuisine. If creamy curries are on your menu, then your pantry isn't complete without cardamom. It may be tempting to cook with store bought curry powders, but they often include unhealthy flavor enhancers and additives. Instead, you can purchase high quality ground cardamom and make your own curry powder at home.
Cardamom isn't just versatile and delicious, it's also super healthy! Rich in antioxidants, while helping to detoxify the body, cardamom is a must have in any health nut's pantry. Need something for your tummy? Brew yourself a cup of authentic chai tea, loaded with cardamom and sweetened with maple syrup to soothe digestive discomfort. Cardamom has also been shown to help open airways for asthmatics. If you have allergies and asthma, keep chai tea in the fridge or cardamom oil on hand during allergy season.
Kosta Miachin is the creator of VIKASA Yoga method – a unique, challenging and effective approach to yoga. He is also the founder of VIKASA Yoga Academy. You can find him online: http://www.vikasayoga.com