This year I am taking my blog and turning it into a business. I have therefore decided – both to keep myself accountable and hopefully to help others see its possible – to start writing a monthly traffic and income report. Please note that I am also including income from my website design business, etsy and epla store as well as blogging. Lets get started!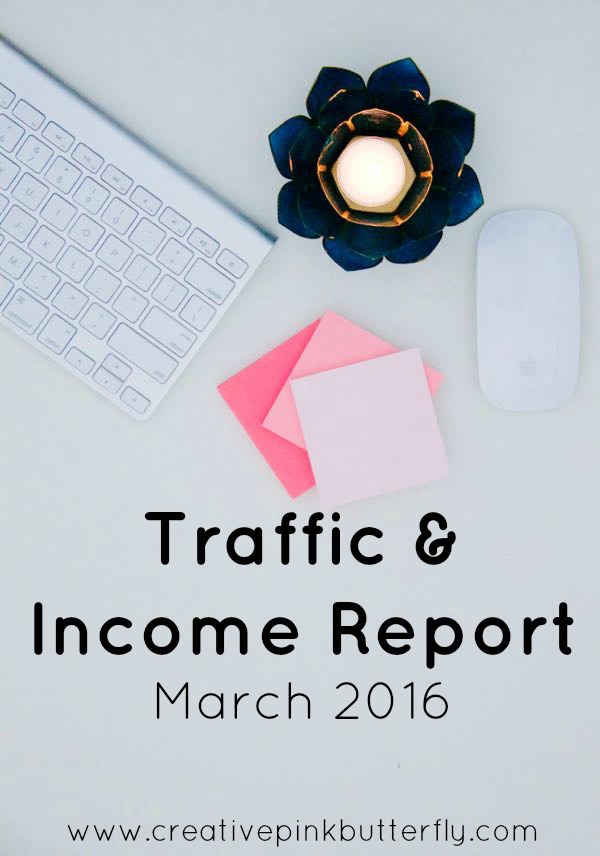 Traffic –
Here are my stats for this month, using Google Analytics.
Creative Pink Butterfly:
Pageviews: 41,948
Unique Pageviews: 37,181
Bounce Rate: 84.22%
Average Time on Site: 03:51
Average Pageviews per Day: 1,353
In march I had much more consistent pageviews. My how to start a bullet journal post is still my post popular post! Around easter I also did well on the easter themed grown up easter bunny post.

Trine Hansen Design:
*Coming Soon*
I am having some trouble with my google analytics, there is a lot of spam referrals, so I will delete the fake data and then post it here.
Income –
Here are my actual income numbers. I have sorted them by category so its easy to understand what came from where. I wrote in my blog and business goals post that I wanted to make $5.000 online this year. I know I am only making a small amount now, but hopefully there numbers will grow each month.
Just keep in mind this is only my income, it does not include any taxes, or expenses.
Creative Pink Butterfly:
Ad Networks:

Adsense: ≈$18 (146.60 nok)

Affiliate Sales:
Trine Hansen Design
Design website: $0
Etsy Shop: $0
Epla Shop: ≈$9 (76 nok)
Total income: $52,13
My total income this month is $52,13, meaning I have $4761,33 to reach my goal. This month I made $0.13 more with my blog, but again less with my business. I did not have any design clients. I currently have no listings via Etsy, but I have a plan moving forward. I did sell one item from my Epla Store. Easter was this month, and I took some time off to visit my hometown.
Quick Statistics Update
Social media is super important, and one of my 2016 goals is having a total of 30,000 followers – so feel free to follow me for awesome updates and content!
Goals for March:
Make $100 this month!

Failed, I did not have any design clients this month which is the main reason for not making enough.

6500 social media followers

Failed, I am almost at 6000, which is super exciting!

Be one month ahead of blog post schedule

Failed, I am currently 0 posts ahead of schedule.

Have 20 items in my Epla Store and 10 items to be published/ideas on items to sell.

Failed, I listed one item and have plans for two more. The main reason for this is I was going to work on this during my one week easter break, however – some things came up and I was not able to.
Goals for April:
Make $100 this month!
7300 social media followers
Be one month ahead of blog post schedule.
Create one newsletter freebie
Start working on making a wordpress theme